BMC Helix empowers HR leaders to manage, automate, and intelligently scale service delivery
Make more time for the human side of HR
HR organizations are busy. Between juggling strategic and reactive activities, their resources are spread thin. Adding to the challenge, many organizations lack a centralized place where employees can raise HR requests, find resources, and easily get what they need—fast. And workflows for employee journeys are often manual and disjointed, creating even more work for HR teams.
BMC Helix for HR Service Management solves these challenges by streamlining requests through a centralized portal, ensuring end-to-end efficiency and visibility for even complex workflows that involve multiple departments. The solution automates common workflows such as name changes or leave requests, allowing HR teams to spend more of their time on strategic initiatives and the "human" side of HR.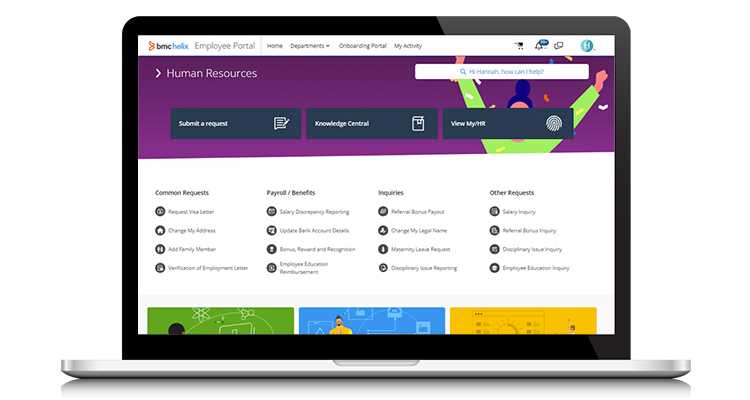 Deliver seamless employee onboarding experiences
As organizations compete for talent on a global level, the quality of the employee onboarding experience becomes even more critical. BMC Helix optimizes onboarding experiences by offering a portal where new hires can engage with the organization prior to their start day. They can complete pre-boarding activities such as submission of verification documentation, view training and other key "to-dos," and ask questions or request guidance from HR.
BMC Helix also optimizes experiences for the hiring managers and HR workforce teams that need to track and manage all pre-boarding and onboarding activities by providing a centralized view for all new-hire activities. Out-of-the-box onboarding workflows orchestrate cross-functional activities from HR, IT, and other lines of business (LoBs).
HR Service Management for the evolving workplace
HR service management requires a robust platform that will intelligently grow, scale, and adapt to the evolving needs of the workplace. BMC Helix provides the core features for modern HR service management and intelligent ways to deliver innovative services and exceptional employee experiences, with:
Integrated HR case management
Key integrations with human capital management (HCM) and signature software
Protection of personally identifiable information (PII) and alignment with the General Protection Data Regulation (GDPR)
Out-of-the-box content
Document management
Knowledge management
HR insights
Shared service support
Automation
HR administration of their own space
By leveraging artificial intelligence and machine learning (AI/ML), automation, and knowledge management, teams can accelerate to an HR shared services model that improves the quality and consistency of HR services.  
BMC Helix software intelligently automates the creation of tasks and workflows based on criteria such as location, role, and the type of request, ensuring the appropriate service is delivered to the employee. Straightforward cases benefit from no-touch case resolution, freeing up valuable time to manage complex escalations and focus on strategic initiatives.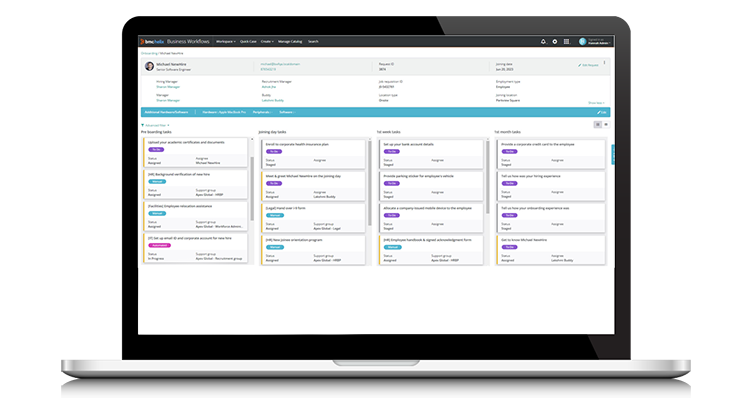 Resources
Explore
Technical detail:
Customer enablement:
Related products and solutions: