TrueSight Capacity Optimization 10.x: Fundamentals for Administrators (ASP)
BMC TrueSight Capacity Optimization is a digital enterprise management solution that aligns IT resources with service demands and business priorities, resulting in on-time service delivery and optimized costs.
This is a three-day assisted self-paced training that allows participants to learn about the installation process, user account management, ETL engines, advanced reporting capabilities, and out-of-the-box views.
This training is applicable for 10.0 to 10.7 versions of the product.
All Assisted Self-paced courses can also be delivered as private, instructor-led courses dedicated to a single customer. Please contact your Education Sales Rep or education@bmc.com for information on this option.
Major release:
TrueSight Capacity Optimization 10.x
Recommended Prerequisites:
Course Delivery:
Assisted Self-Paced | 24.00 小时
Course Modules
Architecture

Gateway manager
Gateway services
Agents
Application Server

ETL Server
Database Server
Presentation Server
Installation

PostgreSQL database customization
Walkthrough of the installation process
Installation of Application Server

Installation of Gateway Server and components
Installation of Presentation Server
Administration

Administration options
Template and Benchmark management
System status
Diagnostic alerts

Global Configuration
Data warehouse options
Custom statistics
Views Management

Installing out-of-the-box views
View groups

Creating a view
Capacity Pools view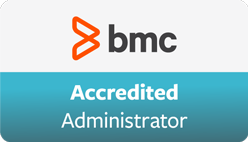 Accreditation is available upon successful completion of this course.